Oppenheimer's 13th Annual Israeli Conference
David Intercontinental Hotel Tel-Aviv, Sunday, May 13, 2012
Oppenheimer's 13th Annual Israeli Conference will be held at the David Intercontinental Hotel in Tel-Aviv on Sunday, May 13, 2012, in partnership with Nasdaq OMX .
The target audience of the conference: close to 500 chairmen, CEOs , CFOs, finance directors and controllers in Israeli Hi Tech companies traded in the Nasdaq OMX stock market, senior private bankers, financial institution include insurance companies, pension funds, provident funds, mutual funds, banks and venture capitals.
The conference will be attended and covered by the media as well as by the public relations representatives of Oppenheimer. The conference will also be publicized in the press and in the mailing and communication channels of Oppenheimer and in other leading communication channels.
Based on the response to the previous years' events, we expect the conference to attract considerable media coverage.
The conference will take place between 8:30-16:00 and will include:
· Opening remarks by Oppenheimer's management.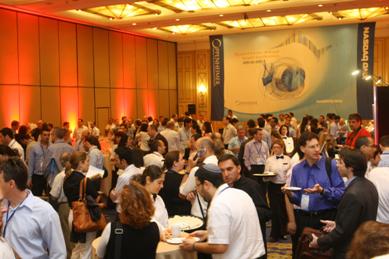 · Key note speaker (Mr. Haim Shani, Director General of the Ministry of Finance, gave the opening remarks at last year's conference)
· Presentations of Senior Analysts from Oppenheimer & Co. New-York.
· Simultaneous Israeli companies' presentations. 40 Israeli companies attended the 2011 conference, and more or less the same are slated to attend this year's conference.
Oppenheimer Israel is the leading provider of global brokerage services to the Israeli Institutional market. The established Tel-Aviv based office is operating for more than 40 years and employs professionals in brokerage, research and executive services. Supported by the Oppenheimer USA group, Oppenheimer Israel services the leading Israeli financial institutions: Banks, Brokers, Insurance Companies, Pension funds, Hedge Funds, Mutual funds and Portfolio Managers.
,Teva Pharmaceutical Industries, ,NICE Systems ,Check Point,Ness Technologies Partner Cellcom, Radware, ,CEVA ,Ceragon Networks Radvision ,Given Imaging, ,Orbotech Verifone ,Mellanox Technologies, ,Fundtech DSP group ,Alvarion, ,AudioCodes RRSat, Global Communications, Network ,Voltaire ,Perrigo Protalix BioTherapeutics Retalix, Ezchip Semiconductor,